Zkteco ML10 Fingerprint smart Door lock, 2 holes need to be drilled while the lock is installed. So it wouldn't be a good choice if your door can not be drilled, Please use ALKALINE BATTERY only, Suggest operating temperature is >=32℉, The cold temperature might affect the sensitivity of the fingerprint scanner, NOTE: This Lock is not waterproof and it's only for indoor use.
ZKTeco DIY ML10B fingerprint lock has zinc alloy material, new generation fingerprint recognition algorithm, easy to install, 10 admin, 60 users normal, 20 users temporary, mechanical key backup unlocking way, external terminal to draw back-up power from 9V battery, 4 x AA alkaline battery power supply, 0 ℃ – 45℃ operating temperature, 30-38 mm optional / 39-46 mm standard door thickness.
Top 10 Smart Door Lock in Bangladesh 2022
ZKTeco Smart Door lock:
Smart door locks are the newest innovation in home security products These hands-free smart home gadgets are designed with convenience and safety in mind. Not only are you able to unlock the door using a custom key code, but you're also off the hook if you're forgetful and leave your keys at home.  This is because smart locks operate electronically and don't require a key to unlock. Some locks may even use remotes, smartphones, or voice commands from a smart speaker to lock and unlock your door.  While they offer convenience to homeowners, some people wonder,  "Are smart door locks safe?"
Phone Detection :
One reason people doubt the safety of smart locks stems from the mistaken idea that you can only unlock them with your smartphone.  Certain brands of smart door locks use your phone's presence via Bluetooth to disengage. This becomes problematic if someone steals your phone. However, most smart locks also have a backup key, and an entry code you can enter in the event your phone isn't with you. Click here for more information:
Lock Removal System :
Not only can many smart locks be hacked, but they also are proven to have other vulnerabilities like the ability to be removed with a flathead screwdriver. Since smart locks often work with an existing deadbolt, this may mean they have the same level of security as traditional locks. Some smart locks require the deadbolt to have certain specifications before installation. For instance, the smart lock may only work with thumb-turn deadbolts and not double cylinder deadbolts. These limitations could make the home vulnerable since the homeowner will not be able to add additional hardware for extra protection. If you do choose a smart lock, it may be best to rely on a version where you can use it as an extra layer of protection for your traditional lock. Plus, depending on what type of power source the lock uses, the lock may become useless during power failures. Brinks Home Security™ offers smart locks with encryption, opening via Bluetooth, a key code, or a regular backup key, and battery backups in the event of a power outage.  If you face any problem then you can contact our Facebook page:
How To Keep Your Smart Door Locks Safe?
Just as there are ways your smart door locks can be compromised, there are also steps you can take to protect your locks from becoming vulnerable. This includes:
Regularly updating your  smart lock password
Not sharing your smart lock password
Updating the mobile application linked to your smart door locks
Practicing these security precautions will keep your smart door locks from becoming an easy target for break-ins.
Interested in home security equipment including smart door locks, sensors, cameras, and smoke detectors? Contact Brinks Home Security today to find out more about their affordable equipment pieces and monitored home security plans.
If you want to low price and good product see below products: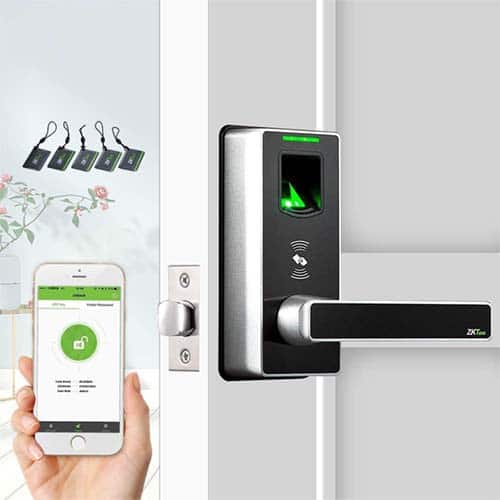 What is the price of the Zkteco ML10B Fingerprint smart Door lock in Bangladesh?
Techdeal offers you the Zkteco ML10B Fingerprint smart Door lock at a low price. The latest price of Zkteco ML10B Fingerprint smart Door lock is 15500tk only. You can order on our website or Facebook Page or visit any of our showrooms. For more information- 01844944094
Buying guideline:
TechDeal is the largest one-stop shopping destination in Bangladesh. Launched in 2018, the online store offers the widest range of products in categories ranging from security & automation products. The latest price of Zkteco ML10B Fingerprint smart Door lock in Bangladesh. You can buy the Zkteco ML10B Fingerprint smart Door lock at the best price from our Tech deal website or visit any of our showrooms.